GROUP AT A GLANCE
Sl.
Parameters
Particulars
Unit/Qty
1
Types of Business
100% Export-oriented Outerwear Garments, Padding, Embroidery, Printing, Dyeing & Accessories Manufacturing
Private Limited Company
2
Year of Establishment
May, 2001
3
Types of Business Operation
Specialized Outerwear Bottom manufacturing Padding Manufacturing Embroidery, Printing, Dyeing, Accessories, Rib & Quilting Services
5
4
Total Production Area
Multi-storied RCC & Pre-fabricated Steel Structure
775000 SFT
5
Number of Total Production Lines
55 M/C (end of line finishing) New Line – on progress
112 10
6
Total Workforce
Skilled and Semi-skilled
15672
7
Workforce Ratio
Female vs Male
70% / 30%
8
Machineries & Equipment
Computerized Sewing Template Pattern Sewing
7000 Set 156 Set
9
Monthly Production Capacity
For all Operation (based on 55 SMV)
Outerwear: 1.2 million Pcs Bottom: 2.1 million Pcs Padding: 1.5 million Yds Quilting: 1 million Yds Ribs: 0.5 million Pcs Stitches: 8000 million
10
Product Mix
Outerwear : Bottom
90% / 10%
11
Gender Product Mix
Men : Ladies: Baby Girls
40% / 30% / 30%
12
Expected Turnover 2022-2023
For all units
$ 200 million
13
Expected Growth Rate
For all units
26%
14
Software Application
CAD, Winda, Welcome and Zimra, SpecFo ERP
Design & Punching operation
ERP application
15
R&D
3D Facility
Browswear, Cro
DEBONAIR GROUP is a privately owned, diversified but mostly inter-linked garment manufacturing and agro business plat-form. It consists of Six (6) operating entities worth $60.0 million, of which Four (4) businesses are export-oriented and profit-making organizations and the other Two (2) operate as non- profit-making organizations. The company has started manufacturing journey in 2010 speculating tremendous prospect and possibilities of potential business growth in the garment manufacturing sector in Bangladesh. As a consequence, directors of the company have transformed their indomitable vision and expertise into reality by overtaking "Debonair Ltd. and Orbitex knitwear Ltd." The ultimate goal of the group is to become a sustainable business conglomerate and contribute to the continuing growth of national economy by creating jobs. As part of our CSR program, we have implemented numerous philanthropic projects to cater disadvantaged people and children of the society.
Debonair enjoys as high as 23% growth rate in terms of expansion of business and this has resulted in its last year's accumulated export turnover of 200 million US dollars and by the end of 2022, it is expected to reach about 250 million US dollars.
Superior quality product and on time delivery performance has made the group able to attract and gain trust of numerous prestigious buyers from across Europe and North America, some of its valued clients are H&M, TNF, TIMBERLAND, OTCF (4F), C&A, K-MART AUSTRALIA, VF ASIA, BENETTON, BEST SELLER, INTERSPORTS, CAMEL ACTIVE, CAM-DABIT, INDITEX, TOM TAILOR etc and for all these to happen debonair admits its workforce has been contributing excellently ever since


In this age of Fourth Industrial Revolution, DEBONAIR has advanced its industrial automation process to reach novel heights through digital transformation of industrial engineering and technology. One of the first innovative industrial model which is on the verge of achieving the benchmark of industry 4.0
With all its compliant production facilities, Debonair is strategically focused to invest in green technologies to reduce production costs and take measures to induce environment-friendly production system. Recent, Debonair has completed first phase of its expansion works which entails $10.0 million BMRE (Balancing, Modernization, Rehabilitation and Expansion) of Ashuia Garment manufacturing facility. Implementation of second phase of $5.0 million BMRE is well under now. In an attempt to create a high end and energy efficient Jacket production plant, and in order to streamline supply of key materials for specialized jacket production, Debonair is has planned to invest $10.0 million in Padding and Quilting production facilities, and the implementation of padding and quilting project is also underway. At Debonair we strongly believe in working together, winning together. Debonair is extremely focused and looking forward in maintaining a long-term relationship with its clients, confirming and sustaining a win-win situation.
STATISTICS
Performance at a Glance: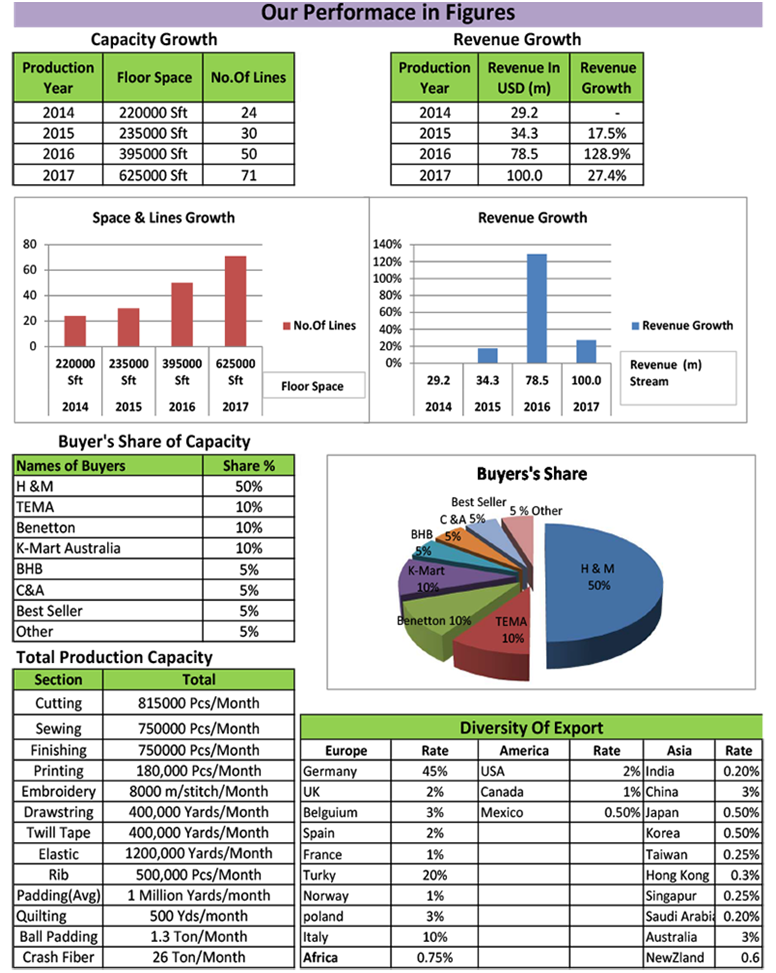 Debonair group has been enjoying tremendous growth for the last couple of years. We have doubled jacket production capacity to 0.5 million Pcs/month by successful implementation of BMRE of our mother project. Another of our garment units is under consideration of BMRE too. Further, Implementation of Quilting and Padding production line is going on in full swing. In order to keep abreast of garment manufacturing technologies, Debonair is always keen to invest in research and development and capitalize opportunities ahead of its competitors. In an attempt to sustain our business efficiently and outperform our competitors and offer one-stop quality services to international partners at competitive rates, we have also planned to venture out textile, garment & accessories related other industries. By all means, we are expecting an average production and profitability growth of 20% over the next few years. A snap-shot of our performance in recent years is depicted below.
PRODUCTS
DEBONAIR produces all kinds of heavy winter jackets and light wear or summer jackets and transitional as well as non-transitional jackets like padded or insulated jackets, down jackets, fake down jackets, ballpoint padding jackets, bomber jackets, quilted jackets, PU leather jackets, fake down, diamond quilting jacket, fake down bonded fleece jacket, seam sealing jacket, seamless jackets, functional fake down jacket, sequins jacket and woolen jackets for all seasons in casual and fashion categories and for all the age and gender groups.
Debonair didn't stop its grip on outerwear and innerwear. As a matter of fact, debonair is now producing high quality homeware products such as pillows, quilted pillow and cushion covers, quilted comforter, mattress protector, duvet, quilted blanket, sleeping pad, chair pads, floor cushions and so on.